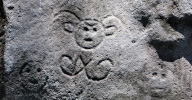 Potomitan
Site de promotion des cultures et des langues créoles
Annou voyé kreyòl douvan douvan
Haiti 's Super Web Directory
Emmanuel W. VEDRINE
HaitianLanguage@gmail.com – CreoleEditions@gmail.com
A | B | C | D | E | F | G | H | I | J | K | L | M | N | O | P | Q | R | S | T | U | V | W | X | Y | Z |
H
HAITI : Chronology; Envoys Extraordinary and Ministers Plenipotentiary; Flags; Former parties; Governors of Saint-Domingue ( 1656-1798); Presidents (from 1806 -); Prime ministers (from 1988 -); Territorial Dispute; U.S. Military Commanders; United Nations Commanders.
HAITI : Invité d'honneur du 6ème Salon du Livre Insulaire d'Ouessant.
HAÏTI - 2000-2011 : Photographies de Roberto Stephenson, exposition à Lugano (Suisse) Octobre 2011.
HAÏTI CONTRIBUE-T-ELLE À LA «PROMOTION DE LA LANGUE DE LA FRANCE»? : article de Robert Berrouët-Oriol.
HAITI: UNE CULTURE HYBRIDE DE RÉBELLION PERMANENTE CONTRE L'OPPRESSION, MAIS AUSSI DE DIVISIONS, D'IRRESPONSABILITÉ ET D'ÉCHECS: article par Paul-André Sanon et Wilfrid Suprena.
HAÏTI - ZONES MONTAGNEUSES : Un patrimoine menacé et une biodiversité en péril par Abner Septembre.
BACKGROUND NOTE: HAITI, (Official name; Geography; People; Government; Economy; People; History; Economy; Foreign Relations; U.S.-Haiti Relations; Travel and Business information).
HAITI COUNTRY STUDY GUIDE (World Country Study Guide).
HAITI - A COUNTRY OF STUDY ("Country Profile of Haiti from The Library of Congress in Washington DC . Like its predecessors, this study represent an attempt to treat in a compact and objective manner the dominant contemporary social, political, economic, and military aspects of Haiti. Sources of information included scholarly books, journals, monographs; official reports of governments and international organizations; numerous periodicals; the authors' previous research and observations; and interviews with individuals who have special competence in Haitian affairs.")
HAITI : Academic Research Resources; Arts, Humanities; Economy; Elections; Political Parties; General Resources; Government; Health; History; News; Organizations; Portals/Directories/Search Sites; Radio, Television; Travel, Tourism.
HAÏTI L'AMENAGEMENT LINGUISTIQUE par Jacques LECLERC.
HAITI ARCHIVES ("This page …holds some 500 documents to support the study of Haiti's history. Its focus is on contemporary history from a labor perspective").
HAITI 'S ARISTIDE SAYS 'SHOW ME THE MONEY'.
HAITI COFFEE [Y G INGERNAIONAL. Yves Gourdet (Yves@haiticoffee.com) President. P.O.Box 2833; Rohnert Park, CA 94927. [Welcome to Haiticoffee.com, your source for the best-kept secret in the world of gourmet coffee. We are located in Rohnert Park, California near San Francisco; but we receive our coffee from Haiti, mainly L'Azile, a village in the Southern part of the country. L'Azile is in a valley but is surrounded by highlands where coffee flourishes. -- Our coffee is made of the world's finest beans from the mountains of Haiti. This rich, shade grown, and songbird friendly coffee will be enjoyed even the most refined coffee expert. -- In addition to buying a satisfying coffee, you're also helping the people of Haiti, L'Azile in particular. Each time you buy a bag of our coffee, it benefits the people of L'Azile. For example, this year we paid to send five children from L'Azile to high school. We expect to triple our efforts next year. This is not a one-time deal; we plan to help these children through college. In addition we are also contributing to the building of a new hospital].
HAITI AND THE DESTRUCTION OF NATURE (Haïti et la destruction de l'environnement).
HAÏTI DANS LA PRESSE EN 2004 (fichier Word 74 KB).
HAITI: DROIT D'AUTEUR ET PROPRIÉTÉ INTELLECTUELLE (Willems Edouard) ["Cette brochure web, constituée d'une série de 16 articles qui ont été publiés dans le quotidien Le Nouvelliste, devait être lancée entre le 23 avril, journée internationale du droit d'auteur et le 26 avril, journée internationale de la propriété intellectuelle. La programmation chargée du Groupe Medialternatif durant cette periode n'avait pas permis la publication tant souhaitée de ces rares ressources sur la question du droit d'auteur en Haiti. C'est maintenant chose faite. Nous remercions infiniment l'auteur de nous avoir confié le fruit de ses recherches et nous esperons que le public haitien et etranger saura en profiter. Willems Edouard est le responsable du Bureau Haitien du Droit d'Auteur, au Ministère de la Culture et de la Communication"].
HAITI EKOLOJI: YON REZO POU KORE ANGAJMAN JÈN EKOLYE YO [ Avril 2000. Fritznel Octave, Korespondan Agence IPS ak Radyo Vwa Fawès, Pòdepè].
HAITI : THE FALL OF THE HOUSE OF ARISTIDE [- History / Politics ].
HAITI: FIRST FREE BLACK NATION IN THE WESTERN HEMISPHERE (pdf) [A course within the African and African-American History Curriculum - the Division of Educational Equity of The School District of Palm Beach County, FL].
HAITI'S FIRST INVESTMENT BANK TO FOCUS ON PROJECTS FOR POOR
HAITI IN FOCUS (by Charles Arthur).
HAÏTI-FRANCE-CINÉMA: FRANKÉTIENNE ENTRE DÉSORMAIS DANS LE CINÉMA CONTEMPORAIN par Dominique Batraville
HAITI AT A GLANCE [ Canada-Haiti Relations; Fact Sheet; Beginning of Diplomatic Relations; Issues to Watch; Trade and Investment; Indigenous Relations; Development Assistance].
HAITI'S HISTORY IN PAINTINGS [Arbres Sacrés; Bacchanales; Baptême et Danse; Caonabo et Anacaona; Cérémonie Bois-Caïman; Croyances Indiennes; Débarquement des Loas; Débarquement Esclaves; Etablissement Français; Fête au Village; Fuite des Esclaves; Fuite vers le Bahoruco; Grands Chefs Marrons; La Création du Drapeau; La Crête-à-Pierrot; L'Affaire des Poisons; Le Cacique Henri; L'écho du Lambi; Les Pères de la Patrie; L'éxécution de Mackandal; Libération; Lutte des Classes; Mackandal; Massacre des Blancs; Nourriture des esclaves; Nuits Orgiaques; Oracle du Destin; Quatre Chefs Marrons; Refuge des Marrons; Repartimientos; Révolte des Indiens; Soulèvement Général; Toussaint Louverture; Victoire à Vertières].
HAITI ÎLE À VACHE : Photos.
HAITITALIA Haititalia è nata il 13 settembre 2009 da alcune famiglie di Haitiani residenti in Italia o originarie di Haiti, formalizzando così un legame di vicinanza e di solidarietà già esistente tra queste persone. L'Associazione intende rafforzare questo legame, comprendendo tutti quelli che hanno a cuore Haiti, per far conoscere questo Paese dal punto di vista del suo popolo, evitando le distorsioni, le interpretazioni e le mediazioni talvolta errate che una visione e una conoscenza non autoctona possono dare. In sintesi, per far conoscere Haiti, la sua cultura, le sue bellezze e i suoi problemi dal punto di vista di chi ci è nato e vissuto.
HAÏTI: LOIS LINGUISTIQUES [«La législation est pratiquement muette en ce qui concerne l'emploi des langues en Haïti. En fait, à part l'article 5 de la Constitution de 1987, les seuls textes juridiques portant quelque peu sur cette question sont contenus dans le Code rural et le Code du travail hérités du régime Duvalier. Ces codes sont aujourd'hui désuets et incompréhensibles pour la très grande majorité de la population, qui ne peut les lire. En fait, la 'législation linguistique' la plus importante concerne le domaine de l'éducation. On peut citer quelques documents: la Loi sur la planification de la campagne d'alphabétisation (1961), la Loi organique du département de l'Éducation nationale (1979), la Loi autorisant l'usage du créole dans les écoles comme langue d'enseignement et objet d'enseignement (1979), le Décret organisant le système éducatif en vue d'offrir des chances égales à tous et de refléter la culture haïtienne (1982).
Le programme pédagogique diffusé par le ministère de l'Éducation nationale (1987-1988) définit les rôles respectifs du créole et du français dans la formation fondamentale des enfants et leur place dans le système scolaire (niveau primaire). La fonction instrumentale du créole, première langue nationale, dans le processus d'apprentissage est de jouer 'un rôle d'intégration sociale et culturelle'; il assure également 'la base sociolinguistique de l'unité nationale'. Quant au français, il constitue la seconde 'langue nationale' des Haïtiens: 'Sa place privilégiée dans le programme de l'École fondamentale au même titre que le créole vise à l'instauration d'un bilinguisme équilibré.' L'enseignement du français doit permettre notamment l'acquisition des connaissances scientifiques et l'accès à la culture universelle». – Language / Law].
HAITI: MAPS [ Country Maps; Detailed Maps; Maps on Other Web Sites. - Geography].
HAÏTI EN MARCHE (Weekly Magazine on Haitian Politics and Culture (in French and Kreyòl).
HAÏTI PREMIÈRE RÉPUBLIQUE NOIRE (livre, Sous la direction de Marcel Dorigny).
HAÏTI MA DECHIRURE! (Poème, Max RIPPON).
HAÏTI OBSERVATEUR (weekly newspaper published in N.Y).
HAITI ON-LINE HAITI NEWS AND MORE
HAITI PHILATELY SOCIETY. [Brian Oakes boakes@videotron.ca - BSc, MPM - Expert in Project Management and PM Training. The site is dedicated to informing interested persons about all aspects of the Haitian postal system from the mid 1700's to the present time. The Society is composed of collectors of all degrees of sophistication from beginners to advanced specialists.]
HAÏTI, POINT FOCAL DE LA CARAÏBE. (Édouard GLISSANT)
HAÏTI PROGRÈS (Weekly Magazine on Haitian Politics and Culture (in French, Kreyòl and English).
HAITI: A SLAVE REVOLUTION: 200 YEARS AFTER 1804 [- History].
HAITI SOLEIL [Haiti Soleil is a nonprofit organization founded on the belief that to bring about social and political change in Haiti, the country needs to empower young people by giving them access to safe spaces that fulfill their educational needs, and provide them with opportunities for intellectual exchange and creative expression].
HAITI SUPPORT GROUP WEB SITE (The Haiti Support Group—solidarity with the Haitian people's struggle for justice, participatory democracy and equitable development, since 1992).
HAITI SUPPORT NETWORK ["The Haiti Support Network is a coalition of Haitian and North American groups and individuals in the New York City area which raises political and material support for democratic and popular forces in Haiti ." For more information, contact the HSN at the International Action Center - 39 West 14th St., Room 206, New York, NY 10011; Tel: 212-633-6646; Fax: 212-633-2889; E-Mail: haiticom@nyxfer.blythe.org].
HAITIAN-AMERICAN POLITICS IN CHICAGO
HAITIAN-AMERICAN POLITICS IN CHICAGO
HAITIAN AMERICAN INTELLECTUAL PROPERTY ASSOCIATION (HAIPA) ["Succinctly, HAIPA is an informational vehicle for the Haitian-American community, at least, in the intellectual property arena. It is a non-profit organization, of which the primary concern is to inform the Haitian community about patent rights, copyright, trade secrets, trademarks, and trade-names.". Contact: haipa@geocities.com ].
HAITIAN-AMERICANS: THEIR SEARCH FOR POLITICAL IDENTITY IN SOUTH FLORIDA
HAITIAN-AMERICAN WOMEN WIN HONOR FOR STARTING PIONEERING LAW FIRM
HAITIAN-AMERICANS UNITED, INC. (HAU OF BOSTON) ["The Haitian-Americans United, Inc. (H.A.U.) is a non-profit organization founded in the Commonwealth of Massachusetts to improve the quality of life for Haitians / Haitian-Americans in Massachusetts and Haiti through education, social-economic empowerment and cultural development."].
HAITIAN BOOK CENTRE ("Distributor of Haitian books, resource center for information on Haitian books") P.O.Box 690324, Flushing, N.Y 11369-0324 USA; haitibooks@aol.com.
HAITIAN COALITION FOR JUSTICE (1218 Flatbush Avenue, Brooklyn, NY 11226; Tel: 718-284-2255 Fax: 718-284-2086; Haitiancoalitionforjustice@yahoo.com )
HAITIAN COMMUNITY MAKING AN IMPACT ON BOSTON (Rev. Dr. Soliny Védrine, Director; (617) 262-4567 ext. 143; svedrine@egc.org ).
HAITI : A COUNTRY NEVE DIES [A CBC Radio one special report – Series of Real Audio files and photographic slides. Radio reports produced and broadcast by David Gutnick of Canadian Broadcasting Company (CBC) Radio One (February 2004). Taped interviews conducted in Haiti during his visit beginning of 2004. – Culture, History].
HAITI: A COUNTRY STUDY [Changes in language use; Creole, Literacy, and Education; The constitutional framework; The language question (French and Creole)].
HAITIAN CREOLE: Language & Culture.
WHAT IS HAITIAN CREOLE ? by Hugues ST.FORT [Ki sa kreyòl ayisyen ye ? (Haitian Creole Version. Créole Connection , Jan., Feb., Mar 2000, Volume VI, # I, Issue XX. - Language].
HAITIAN CREOLE: LANGUAGE AUDIO RESOURCES BY EDUCA VISION [Films & Videotapes. - Haitian Creole language / Audio-Visual Resources].
HAITIAN CREOLE LESSONS BY PIMSLEUR 102-3219997-1320902 (language company) [10 lessons on 5 audio cassettes. Kreyòl editor: Joel Theodat (native speaker). Project reviewed by Emmanuel W. Védrine (native speaker). - Haitian Creole language / Audio-Visual Resources].
HAITIAN CREOLE: THE SOUL OF THE HAITIAN PEOPLE [Introduction; What is a Creole language; Historical background; Modern misconceptions; What are the linguists saying: Creole in daily life and religion; Creole in Haitian and Caribbean music; Written Creole and Creole Literature; The future of Haitian Creole. - Language].
HAITIAN CREOLE: THE SOUND SYSTEM (PHONOLOGY) : THE HAITIAN: THEIR HISTORY AND CULTURE by Michele Burtoff Civan with Féquière Vilsaint and Gepsie Morisset-Métellus [Refugee Fact Sheet Series #10, 1994. Publisher: Center for Applied Linguistics - The Refugee Service Center . – Language & Literacy ]
KREYÒL AYISYEN, OR HAITIAN CREOLE (pdf) by Michel Degraff) [Unmarked verbs; Anterior (or Past) Tense; Progressive aspect; Habitual aspect; Completive aspect; Irrealis Mode; Other combinations of Verbal Markers; Complementizers; Dependent clauses; Negation; Passive; Adjective: Verbs?; The Copula; Serial verbs; Noun phrase; Possession; Pronouns: case distinctions; Coordinating conjunctions; Preposition; Miscellaneous. - Language, Creole linguistics].
HAITIAN AMERICAN YOUTH ORGANIZATION (HAYO).
HAITIAN CREOLE SUMMER INSTITUTE [The Haitian Creole Summer Institute has been offered in Boston, Massachusetts for the past eighteen years. Since the summer of 1995, the Institute has been conducted at the Harbor Campus of University of Massachusetts-Boston under the joint collaboration of the Africana Studies Department, the Haitian Studies Project, and the Division of Corporate, Continuing, and Distance Education. Professor Marc Prou ( marc.prou@umb.edu ), director].
THE HAITIAN FILES ["This is a short collection of articles written between 1985 and 1988 in Haiti. This time frame corresponds to the last months of the Duvalier regime, and the ensuing 'troubled times' as the country struggled to reach a form of democracy. They were either published in a local bi-monthly paper, The Haiti Times, or submitted to press agencies including The Associated Press (AP), United Press International (UPI) and South North News Service (SNNS) for which the author was a correspondent. Earlier articles will be added gradually when time (mine) allows. -- The sole purpose of these pages is to contribute to the repository of texts on Haiti and be of help to researchers and historians interested in that period of Haitian history. -- This material, except for the photographs, can be freely reproduced with mention of the source; a mention of its use would be appreciated. As for the photographs, they are protected by copyright and cannot be, in any way, shape or form, be reproduced without the author's authorization." Jean-Pierre Cloutier].
THE HAITIAN GOVERNMENT (Le gouvernement haïtien / Gouvènman ayisyen an).
HAITIAN HEALTH OUTREACH PROJECT (HHOP). Dr. Raymonde Placide, Director; 52 Beacon St.; Somerville, MA 02143. Tel. (617) 498-1212; Fax (617) 868-3012.
HAITIAN HERITAGE MUSEUM (HHM). Miami, Florida. Phone: 305 371-5988
HAITIAN NURSES ASSOCIATION. Marie Joseph, R.N., President; P.O. Box 393,Mattapan, MA 02126.Tel. (617) 361-0383; Fax (617) 361-0383.
HAITIAN MINISTRIES INTERNATIONAL
HAITIAN NEWSPAPERS AND JOURNALS
HAITIAN POLITICS [Mailing List - Haitianpolitics@yahoogroups.com ].
THE HAITIAN REVOLUTION [Introduction; Subject headings; Bibliographies; Indexes, Abstract & Catalogs; Scope; Browsing areas; Biographical sources; Internet resources; Key to locations; Frequently mentioned texts; Dictionaries & encyclopedias - History].
HAITIANS IN THE DOMINICAN REPUBLICS.
LES HAÏTIENS ENTRE LE RÊVE ET LA RÉALITÉ
HAITIANOS EN LA REPÚBLICA DOMINICANA
HAITIANOS Y DOMINICO-HAITIANOS EN LA REPÚBLICA DOMINICANA, [Ayisyen E Dominiken-Ayisyen An Repiblik Dominikèn – enfòmasyon nasyonalite ak prèv idantite dominiken].
HAITIAN COMMUNITY RELATIONS, Inc. ,O. BOX 334, Smyrna, GA 30081, Tel. (770) 438-9796, Fax (770) 438-9178, Email: hcrinfor@hcronline.org.
HAITI: PLAIDOYER EN FAVEUR DE LA PARITÉ OU DU TRATEMENT ÉGALITAIRE DU CRÉOLE, Frank Laraque 30 avril 2008 (Soumis à AlterPresse le 21 avril 2008).
HAITI : REVOLUTIONARY WAR (1791 – 1803) (Note: Bibliographie historique de la guerre révolutionnaire).
HAITIAN SCIENTIFIC SOCIETY (Seminars organized by Alfred G. Noël, covering a large variety of topics, taking place in the Mathematics department of Northeastern University in Boston.
HAITIAN TIMES (Weekly News Magazine about Haiti and the Haitian Diaspora (in English and Kreyòl).
HAÏTICULTURE.CH (Site culturel de la communauté haïtienne de Suisse).
LES HAÏTIENS: SONT-ILS DES ANTILLAIS, DES CARIBÉENS OU DES WEST INDIANS ? (première partie, deuxième partie) par Hugues ST. FORT [- Haitian identity].
HAÏTI-INDE-GUADELOUPE [un écrivain haïtien offre une traduction d'un poème de Rabindranath en hommage à la commémoration de l'arrivée des premiers indiens et du bicentenaire de la République d'Haïti].
HOPE FOR THE CHILDREN OF HAITI.
FOR HAITI WITH LOVE (Medical and Nutritional Help).
HEADS OF STATES OF HAITI (PRESIDENTS, KING AND EMPERORS)
A HEALER IN HAITI (Dr. Paul Farmer).
HEALTH AND HAITI : WHAT CAN BE DONE ? [Yon prezantasyon sou sante an(n) Ayiti e kijan peyi a kapab adrese epidemic maladi SIDA (HIV/AIDS). - Development / Education / Health].
HEALTH CARE FOR HAITIAN FAMILIES VIDEO [Videotape in Haitian Creole with English subtitles. An educative document for Haitian families and their providers that is designed to help families understand the health care and nutritional needs of children with HIV infection. It also orients families to the range of health care providers and services that are available to help them and their child with this infection. - Haitian Creole language / Audio-Visual Resources].
A HEALTH HISTORY FORM (in Haitian Creole [French version is also available by clicking on French). A good guide for translators or health workers - a list "illnesses" is mentioned].
HIPPOCRENE CREOLE: CREOLE (HAITIAN) / ENGLISH/CREOLE (HAITIAN) DICTIONARY by Charmant THEODORE ["Common-sense phonetic pronunciation for both languages. Short introduction to Haitian Creole grammer. Modern, up-to-date entries. Concise format. 291 pages 4 x 6 paperback W 8,000 entries Publication.]
THE HISTORY OF TOUSSAINT LOUVERTUREby M.D. STEPHENS [London: Printed for J.Butterworth and Son, Fleet Street; and J. Hatchard, Piccadilly, 1814. 92 pages. - History].
WORLD HISTORY ARCHIVES: THE ENVIRONMENTAL HISTORY OF THE REPUBLIC OF HAITI [Economic history of the Republic of Haiti; Contemporary political history of the Republic of Haiti; Culture history of the Republic of Haiti; Media and telecommunications of the Republic of Haiti; Resources for the study of the Republic of Haiti; Retrospective history of the Republic of Haiti; Social history of the Republic of Haiti; Working-class history of the Republic of Haiti].
HYMNE NATIONALE D'HAITI (La Dessalinienne) Haiti 's National Anthem / Im Nasyonal Ayiti version créole. * Tèks orijinal nan lang fransè: Justin Lherisson, 1903; Mizik orijinal: Nicholas Geffrard; Vèsyon kreyòl sa a: Raymond A. Moïse; Adaptasyon ak Mizik: Ansy Dérose, 1980. Pibliye nan An Annotated Bibliography On Haitian Creole: A review of publications from colonial times to 2000 (otè: E. W. Védrine, © 2003).
I
ILLUSTRATED HAITIAN CREOLE BIBLE BOOKS DOWNLOAD PAGE ["Preliminary output of Marilyn Mason's Haitian Creole Orthography Conversion software; lack of ftp storage space alone limits how many converted books are currently made available via this Web page". - Literature (Creole) / Religion].
IMIGRANTES IRREGULARES. «Este Material es una contribución del Servicio Jesuita a Refugiados, para el estudio y la reflexión de grupos, instituciones y personas interesadas en la relación dominico-haitiana. Este material presenta el mensaje del Papa Juan Pablo II para la Jornada Mundial de Emigrante 1995.» CONTENIDO: Mensaje del Papa Juan Pablo II para la Jornada Mundial del Emigrante; Lectura de nuestra situación a la luz del mensaje del Papa Juan Pablo II. [Imigran Iregilye].
L'IMMIGRATION HAÏTIENNE EN FRANCE
ÎLE EN ÎLE ("un site pour valoriser les ressources informatives et culturelles du monde insulaire francophone").
INSTITUT DE MUSIQUE DE L'ASILE (Music Institute of l'Asile, Enstiti Misik (komin) Lazil).
INSTITUT D'ÉTUDES CRÉOLES D'AIX ("Creole Studies and some rare documents").
INSTITUT HAITIEN DE STATISTIQUES ET D'INFORMATIQUE (IHSI - Haitian Institute of Statistics And Information / Enstiti Estatistik Ayisyen Ak Enfòmasyon).
INSTITUTE FOR JUSTICE & DEMOCRACY IN HAITI. «To work with the people of Haiti in their non-violent struggle for the return and consolidation of constitutional democracy, justice and human rights, by distributing objective and accurate information on human rights conditions in Haiti, pursuing legal cases, and cooperating with human rights and solidarity groups in Haiti and abroad.» P.O. Box 745, Joseph, OR 97846, Telephone: 541-432-0597, Fax: 541-432-0264, Mail : info@ijdh.org.
INTENTION DE VOYAGE DANS LA CRITIQUE LITTÉRAIRE EN HAÏTI par Dominique Batraville.
«L'INTERVIEW REFONDATRICE» DU RALLIEMENT NATIONAL MODERNISATEUR [Leslie F. Manigat prend occasion d' une interview à Haiti-Tribune, de Paris, pour parler, après la Convention Nationale de son parti le RDNP, et parler d'abondance, des arêtes majeures de sa pensée et de celle de son parti sur les problèmes de fond de la politique haitienne actuell,e et des thèmes d'actualité qui agitent l'opinion publique. C'est une interview refondatrtice du ralliement modernisateur dans la conjoncture présente…].
INVESTING IN HAITI'S DEVELOPMENT | ENVESTI NAN DEVLOPMAN AYITI
ISTWA PEYI DAYITI (by Jeuan Julien) [A series of Haitian Creole language CDs chronicling the history of Haiti . - Haitian Creole language /Audio-Visual Resources/ History].
J
JAFRIK AYITI [Pwodiksyon Jafrikayiti, Tel: (819) 595-6967 / jafrikayiti@hotmail.com - 240 Sparks, B.P. 55143, Ottawa, On, K1P-1A1, Canada].
JANO SIKSÉ: UN INMIGRANTE. «Este documento narra como fue asesinado un Inmigrante Haitiano en la frontera sur de la República Dominicana por miembro del Ejercito Nacional de puesto en la Comunidad 'La Cañada' en Hondo Valle.» [Jano Siksé: Yon Imigran].
JEAN CHARLES (JC DOC PREP TAXES & IMMIGRATION SERVICES LLC /Documents preparation services /Immigration/Divorce/Short sale/Loan modification/Taxes... Tel (954 610 3459) cjeanf2000@yahoo.com / cjeanf2000@gmail.com Haitian Creole Translation & Interpretation Services ... NOU PALE KREYOL ... 4087 N. University Dr, suite 2403 Lauderhill, FL 33351. Cell 954 610 3459, Fax 954 903 4280.
JEAN-LOUIS MICHEL: HAITIAN FENCING MASTER (By Adam Adrian Crown)
JENN TIMOUN KI GEN OPRESYON: SE YON DEFI ESPESYAL POU YO (fòma pdf), (fòma html) [Kreyòl version of an Asthma brochure. A production of the State of New York Department of Health. - Health-related document / Dokiman sou sante].
THE JESUS FILM : HAITIAN CREOLE VERSION . ["The film has been seen in every country of the world and translated into hundreds of languages http://www.jesusfilm.org/progress/translations.html since its initial release in 1979. Our goal is to reach every nation, tribe, people and tongue, helping them see and hear the story of Jesus in a language they can understand. So whether a person speaks Swahili, French, or a language whose name is extremely difficult for most to pronounce, he or she will encounter the life and message of Jesus in a language "of the heart."]. The JESUS Film Project. - Haitian Creole-language Audio-Visual Resources.
Jorave TELFORT (jtelfort@hotmail.com) [Translator & Interpreter: Haitian Creole, French, English]
K
KAUSS, ST-JOHN (poète haïtien, fondateur du Surpluréalisme).
KAYE EGZÈSIS: 4 CHEMEN KONNEN [4 Roads to Learning How to Read and Write Haitian Creole (Student's Exercise Book). Published by the Haitian Government's Literacy Department (1997). - Literacy / Afabetizasyon].
KÈK ATIK L'UNION C'EST LA FORCE DE LA NATION SOU LANG KREYÒL [«Jouskilè baryè lang lan ap kraze tout bon vre? » (29 okt., 2002) «Jouskilè baryè lang lan ap kraze? » (Entèvyou ak psè. Bryant Freeman), 5 nov. 2002; «Kòman kraze baryè lang lan?» (25 ane travay psè. Bryant Freeman nan rechèch sou lang kreyòl), 6 nov.2002)].
KEK DOKIMAN ADMINISTRASYON SEKIRITE SOSYAL OZETAZINI (fòma pdf) [U.S. Social Security Administration documents. Kreyòl version (Sa k ladan): Règleman pou sèvis entèprèt; Yon koutje rapid; Benefis pou lè w pran retrèt e pou sivivan; Benefis pou moun ki andikape; Sipleman Sekirite (kòb, benefis); Diksyonè tèminoloji sekirite sosyal;Travayè etranje ak nimewo sekirite sosyal. – Human services].
KÈK DOKIMAN DIVIZYON TRAVAY AK METYE NAN MASSACHUSETTS [Yon paj wèb ki chaje ak dokiman sou Massachusetts Division of Employment and Training documents in Haitian Creole (fòma pdf)].
KÈK DOKIMAN PWOKIRÈ JENERAL MASSACHUSETTS SOU DWA KONSOMATÈ YO (pdf) [ Several documents produced in Haitian Creole by the Attorney General of Massachusetts to alert consumers to their rights (in pdf format)].
KÈK DOKIMAN SOU LASANTE MANTAL NAN LETA FLORID LA (fòma pdf) [Documents related to Substance Abuse and Mental Health documents and forms, State of Florida. Lasante Mantal Florid la (Baker Act - (Florida Baker Act Overview); Aplikasyon pou Nonmen yon Egzaminatè Ekspè Endepandan (Application for Appointment of Independent Exper); Avi Dwa pou Mande Manda pou Prezante an Pèsòn oswa pou Reparasyon Tò (Notice of Right to Petition); Aplikasyon pou Admisyon Volontè (Etablisman Dakèy - Application for Voluntary Admission); Otorizasyon Jeneral pou Tretman Eksepte Medikaman Sikotwòpik (General Authorization for Treatment Except for Psychotropic Medication); Otorizasyon Espesifik pou Medikaman Sikotwòpik (Specific Authorization for Psychotropic Medication); Envantè Efè Pèsonèl (Inventory of Personal Effects); Otorizasyon pou Pibliye Enfòmasyon (Authorization for Release of Information); Aplikasyon ak Avi pou Transfè nan Yon Lòt Etablisman (Application for and Notice of Transfer); Restriksyon sou Kominikasyon oswa Vizitè (Restrictions of Communications or Visitors); Pati I: Avi Dwa Malad Volontè pou Mande Egzeyat nan Yon Etablisman Dakèy (Part I: Notice of Voluntary Patients Right to Request...); Pati II: Avi Dwa Malad Volontè pou Mande Egzeyat nan Yon Etablisman Dakèy (Part II: Notice of Voluntary Patients Right to Request...); Otorizasyon pou Tretman Elektwochòk (Authorization for Electroconvulsive Treatment); Aplikasyon pou Admisyon Volontè - Timoun (Application for Voluntary Admissions - Minors); Aplikasyon pou Admisyon Volontè - Etablisman Tretman Leta (Application for Voluntary Admissions - State Treatment); Dwa Malad yo (Rights of Patients); Refi oswa Revokasyon Konsantman pou Tretman (Refusal or Revocation of Consent to Treatment); Sètifika Achèvman Fòmasyon Gadyen Avoka (Certification of Guardian Advocate Training Completion); Avi a Moun oswa Mandatè ki Ka Pran Desizyon Medikal nan Plas Yon Lòt Moun (Notification to Healthcare Surrogate); Fòm Preferans pou Dezamòsman (De-escalation Preference Form). - Health-related document / Dokiman sou sante].
KÈK DOKIMAN SIPÈVIZÈ ELEKSYON YO: MIAMI-DADE COUNTY, FLORIDA ("Documents from the Supervisor of Elections, Miami-Dade County ". Documents including: Règ sou Demann Bilten pou Moun Ki Pap La (Absentee Ballot Request Policy) (pdf); Demann Bilten pou Moun Ki P ap La (Absentee Ballot Request Form) (pdf); Kouman pou W Vote ak Bilten Sa a (How to Request an Absentee Ballot) (pdf)].
KENBE TIMOUN OU YO AN SEKIRITE KONT ANPWAZONNMAN PA PLON [A 4-page Kreyòl version booklet on Childhood Lead Poisoning Prevention. The Florida Department of Health].
K KENDALL CITADELL LLC [Recruting & Outsourcing Services for Haiti. Jean-Robert DUROCHER, Founder. Toll Free 877/ 705-7711; Fax: 617/ 577-9800; email: jrdurocher@kendallcitadel.com; www.kendallcitadel.com]
KEPKAA (Komite Entènasyonal pou Pwomosyon Kreyòl ak Alfabetizasyon | Comité International pour la Promotion du Créole et de l'Alphabétisation; formerly called KIPKAA) is a Montreal-area-based Creole Literacy organization, coordinated by Pierre Bain). C.P. 65060, Succ. Place Longueuil, Longueuil, Québec, J4K 5J4, Canada. Tel: 1 (450) 651-0157; Courriel: kepkaa@attcanada.ca; Montreal 's October 2003 Creole Language Month; Creole Meets Classics.
THE COMMITTEE TO ELECT KERBY ROBERSON [108 Blue Hill Avenue Milton, MA 02186; e-mail: attKerby@aol.com ; Tel. (617) 448-3576; (617) 361-4100].
KIJAN NOU EKRI KREYÒL AYISYEN by Woje SAVEN [Republished by Windows on Haiti's "Ann Pale" Haitian Creole Forum . Originally published in Haitian Times / – Literacy / Afabetizasyon].
KIJAN POU W KONTAKTE LEJISLATÈ OSWA MANM LACHANM YO (pdf) [Vèsyon kreyòl: How to Contact Legislators - State of Florida].
KI NON LANG NOU AN? [An article by Yves Dejean. Haïti-Observateur , 1984. - Language].
KISA ANTHRAX (CHABON) LA YE? [A document explaining what Anthrax is. Produced by the Cambridge Public Health Department. – Chabon; Kisa chabon ye?; Ki sentòm li; Eske gen vaksen pou chabon?; Eske gen tretman pou chabon?].
KISA K VYOLANS DOMESTIK? [What is domestic violence? Kreyòl version, 25 pages. Producer: Dwa Fanm . P.O.Box 23505 , Bklyn , NY . 11202; Tel. (718) 230-4027; Fax (718) 230-3194].
KOMINOTE, IDANTITE AK DWA LENGWISTIK KREYÒL [Jean-Robert Placide Manm Sosyete koukouy, seksyon Kanada. Octobre 2011.]
KOMISYON ETA FLORID SOU RAPÒ ANT MOUN AK MOUN: NOU KA PWOTEJE MOUN KONT DISKRIMINASYON [A brochure by The Florida Commission on Human Relations. It deals with: Florida 's anti-discrimination laws - Community relations services & Civil rights protections. It also comes with instructions and contact information to file complaints - Public service announcement in Haitian Creole].
KOZE LANMOU II (A collection of love poems in Haitian Creole). © 2007 by Emmanuel W. VEDRINE. Text in Haitian Creole. [Note: Caribbean Studies, Creole Linguistics, Haitian Creole, Haitian Linguistics; Haitian History, Haitian Language, Haitian Literature; Haitian Studies] -- TITLES: [Anpàn mo; Babay lekòl mwen an; Bò Oseyan an; De flè nan jaden lavi; Dènye lendi; Deskripsyon; Divòs; Douz liy pou li; Fanm Ayiti; Fanm kreyòl; Fanm marabou jansiv vyolèt; Filalang lanmou; File; File se yon lotri; Flè sovay; Gen defwa m sonje w; Jou pa ou; Kat lèt; Kè m ak ou menm; Kilè w ap retounen; Koutba; Lago ak lanmou; Lago san kache; Lanmou o pliryèl; Lanmou se yon fri san sezon; Lavi se yon powèm; Lè fanm lakay damou; Lè m te fèk rankontre w; Maryaj; Meditasyon; Mwen reve w dwòl; Mwen sonje ou;Nan Pak la; Nègès ki fè bote rivaj mwen yo; Ou panse m ap tounen; Pa bliye; Pawòl an pil; Plase; Pwòpte; Resèt pou depresyon; Respè pou fanm Ayiti Tonma; Rèv dwòl; Rilaks; Sa ou dwe konnen; Sapoti ou dous;Se bon tande!; Se do l mwen wè; Sekrè lanmou; Sen valanten, priye pou mwen; Si ou te konn apresye; Si van an vante; Si w ap vole;Si w te konnen…; Solèy lanmou w kouche pou mwen; Solèy sa a; Sou Sou Sou; Souri ban mwen; Souri l ak pa Mona Lisa; Souvni; Triyang souwè; Vale womantik; Vèb renmen; Womans Ozetazini; Yon bèl jaden flè; Yon bouke flè pou fanm vanyan; Yon jaden lavi; Yon pye flanbwayan; Yon ti woz]
KOUMAN POU W CHWAZI YON PLAN SANTE? [How To Choose A Health Plan].
KONEKSYON FAMILIAL: TRAS SELIL FALSIFÒM ["Brochure in Haitian Creole explains how sickle cell disease is transmitted. Describes the odds of children being born with the disease depending on their parents' genetic makeup" - Health-related document / Dokiman sou sante].
KONJIGEZON VÈB PA GENYEN par Jean Erich René.
KONSÈY POU PREPARE W POU SIKLÒN (fòma pdf) [Kreyòl version, 7 pages. Producer: Miami-Dade County Emergency Management Bureau , FL. – Human services].
KREYÒL - LANG PEYI DAYITI ("Forum for learners of Kreyòl"; kreyol@onelist.com).
THE KREYÒL LANGUAGE (La langue créole / Lang kreyòl la).
KREYOL ACQUISITION: ON THE MOVE (This item follows an initial letter introducing the intention to seek Kreyol literature and provide it to school programs in Haiti, beginning with SODA a developing network of neighborhoods in Port-au-Prince).
KREYÒL AK TEKNOLOJI: ZANMI OSWA LENNMI? (pa Marilyn P. Mason ) [Paper presented at Montreal 's International Creole Day Celebration sponsored by KIPKAA (Komite Inisyativ pou Kore Alfabetizasyon an(n) Ayiti), Quebec , CANADA . October 28, 2000 . Kreyòl translation: Emmanuel W. Védrine - Science and Technology / Syans ak Teknoloji, - Language].
KRI POU LIBERASYON (Cry for liberation). © 2008 by Emmanuel W. VEDRINE. Text in Haitian Creole (poetry). [Note: Caribbean Studies, Creole Linguistics, Haitian Creole, Haitian History, Haitian Language, Haitian Literature] -- TITLES: Ala traka pou demokrasi; Ayisyen ak Chinwa; Ayisyen, yon metis; Ayiti bezwen Dyaspora; Ayiti nan fen ventyèm syèk; Ayiti pou Ayisyen; Ayisyen, sispann pran lòd nan men zòt; Chalbari dèyè save raketè!; Diskou yon kandida tafyatè; Egzamen pou kandida alaprezidans; Eleksyon konfizyon; Entelektyèl komokyèl; Epi solèy la leve Ayiti; Eske nou gen desandan?; Esprime w!; Fanm Ayiti; Fanm kreyòl; Fènwè ak klète an 1991; Fòk sa fini!; Jimnastik politik; Jounen Entènasyonal Felix Morisseau-Leroy; Kandida dan griyen; Kandida dwategoch; Kandida lamayòt; Ki kote Ayiti ye?; Kote kochon kreyòl nou yo?; Kote m te fèt; Koudeta nan lakou Ayiti; Koudeta nan peyi sivilize; Kowalisyon pou eleksyon; Kreyòl se lang ki towo a; Lafrechè; Lavèy 30 Septanm; Lavoum pou yo!; Lè Ayiti te Ayiti; Lidè Ayiti bezwen an; Litani yon machann; Manman, pa ban m tete ankò; Mantalite lakay; Montre m pito; Nan pwovens; Nouvo direktè, nouvo woulo konpresè; Nwèl lavèy Bisantnè; Pèp ayisyen an 1990; Peripesi yon ti pèp nwa; Pitit ak manman ad oktif li; Poukisa se Ayisyen?; Pòv k ap mande nan Pòtoprens; Premye ak dènye; Prestasyon sèman prezidansyèl; Priyè delivrans pou Ayiti; Pyebwa libète; Refleksyon sou Onz Septanm; Reken yo kontinye ap fete; Respè pou Fanm Ayiti Tonma; Revè 1986; Rèv mwen pou demen; Rèv pou yon manman an danje; Se kreyòl mwen pale; Sezon wouj; Si m te, m ta....; Tande kri peyizan yo;Te kwè nou tout se Ayisyen; Transpòtasyon an Ayiti; Trantan anprizone; Vèb Ayiti ap konjige; Vote ak konsyans!; Zam mwen se yon plim; Zwazo ak prentan
KRIK? KRAK! TALES OF A NIGHTMARE (VHS Video Tape) [Papa Doc Duvalier and the work of his infamous paramilitary force: The Tontons Macoutes. – Documentary & Fiction].
KWAZMAN TEKNOLOJI AK KREYÒL AYISYEN: YON PA ANNAVAN (pa Marilyn P. Mason) [Science and Technology / Syans ak Teknoloji, - Language].

E. W. VEDRINE CREOLE PROJECT, Inc.
HaitianLanguage@gmail.com – CreoleEditions@gmail.com