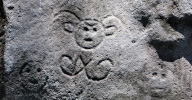 Potomitan
Site de promotion des cultures et des langues créoles
Annou voyé kreyòl douvan douvan
Haiti 's Super Web Directory
Emmanuel W. VEDRINE
HaitianLanguage@gmail.com – CreoleEditions@gmail.com
A | B | C | D | E | F | G | H | I | J | K | L | M | N | O | P | Q | R | S | T | U | V | W | X | Y | Z |
L
LABOURSTART [Kote sendikalis koumanse jounen yo sou entènèt].
LA FIESTA DEL CHIVO. [Documents dealing with massacre of Haitians in the Dominican Republic / Dokiman ki relate masak Ayisyen an Repiblik Dominikèn].
LAJAN PRETE POU ACHTE KAY [A Kreyòl version of the American Financial Services Association's Mortgage Loan s brochure. It is designed to assist people in identifying the terms of their mortgage loan, to determine what terms are best for their situation, and to identify issues they should be aware of before entering into a mortgage loan transaction.].
LAKAY GRAPHICS: [Online Haitian store offering Unique Text Designs on T-Shirts, Sweatshirts, Mugs, Bags, Mousepads, Decorative Tiles, Calendars, Posters, Postage Stamps and other Gift items. We have Greeting Cards in English and in Haitian Creole. We offer Design Services for Promotional and Marketing needs: Logos, Ads, Posters, Menus, Signs, T-shirts, etc. We cater mostly to the Haitian Diaspora in North America and the Caribbean, but Most of our Products can be Customized and Personalized according to Anyone's Taste or Needs. Antoine Pierre-Paul, Email, Brentwood, New York].
LAK AZYEYI: YON GWO RESOUS PEYI DAYITI K AP GASPIYE [Jwen 1999. Fritznel Octave, Korespondan Agence IPS ak Radyo Vwa Fawès, Pòdepè].
LA LOI ELECTORAL, (Conseil Électoral Provisoire - CEP) / Lwa Elektoral (Konsèy Elektoral Pwovizawa - KEP).
LA LUCHA DE LA MINORÍA DOMINICANA DE ASCENDENCIA HAITIANA POR LA CIUDADANÍA Y LA JUSTICIA. «Este material recoge información sobre las mujeres dominicanas de ascendencia haitiana en la república Dominicana.» CONTENIDO: Racismo y antihaitianismo, como presión sobre los/as inmigrantes haitianos/as y sus descendientes y soporte ideologógico a un comportamiento Gubernamental cínico y antidemocrático en la República Dominicana; Trabajadores/as migratorios/as: Situación de los/as trabajadores/as inmigrantes haitianos/as y de los/as dominicanos/as de ascendencia haitiana; La Mujer Dominicana de ascendencia haitiana, frente al racismo y la xenofobia en la República Dominicana; El Derecho a la Nacionalidad: Constitución Dominicana y los/as hijos/as de inmigrantes haitianos nacidos/as en la República Dominicana; Cultura de los/as dominicanos/as de ascendencia haitiana; Los problemas de acceso a la justicia, como limitante al Estado de Derecho en el régimen democrático dominicano; Expulsiones masivas, derechos humanos y derechos migratorios negados; Legislación Dominicana. Las leyes migratorias y el Derecho a la Nacionalidad Dominicana; Acceso a los Servicios: Salud, Educación, Vivienda y agua Potable; Medidas para avanzar en la Lucha Contra la Explotación, la Discriminación, el racismo y la xenofobia antihaitiana en la Rep. Dominicana. [Lit Minorite Dominiken Orijin Ayisyen Pou Sitwayènte Ak Jistis].
LAMBI FUND OF HAITI [ Lambi Projects / | Annual Report / (Rapo anyèl); Who We Are / (kiyès nou ye); Photo Gallery (Galri foto); Press/Links / (Lyen pou laprès) Notes From the Field / (Nòt ki soti sou teren travay); How You Can Help / (Kijan ou kapab ede). - Development].
THE LANGUAGE OF HAITI (by Paul LeCorde).
101 LANGUAGES OF THE WORLD CD-ROMS (includes Haitian Creole) (Yon sèt 4 CD-ROM, Transparent Language Company / kreye ki montre 5,000 mo ak tras fraz, plizyè fraz konplè nan kontèks chak 101 lang sa yo, enkli kreyòl ayisyen . Li gen dialog aldan; pratik konvèsasyon; entegrasyon konplè vwa natifnatal; anrejistreman, pou jwe e konpare; analiz diskou dijinal ki pa parèt rapid; jwèt pou tyalenj, elt.. Haitian Creole language / Audio-Visual Resources].
LASANTE POU TOUT MOUN: AKSÈ POU MOUN KI PALE LÒT LANG NAN SANT SANTE NAN MASSACHUSETTS (fòma pdf). [Language Access in Health Care Settings in Massachusetts – 2 pages. - Health-related document / Dokiman sou sante].
Marguerite LAURENT, JD [Haitian Lawyers Leadership Network - dedicated to protecting the civil, human and cultural rights of Haitians at home and abroad].
LAW OFFICES OF ELDA JAMES [LOCATION: Boston, Massachusetts: 599 Washington St.; Dorchester, MA. 02126. Tel. (617) 929-0404. First consultation is free].
LAW OFFICES OF GUERRIER AND ASSOCIATES [LOCATION: Boston , Massachusetts. - 161 Granite Ave.; Dorchester, MA. 02124; Tel. (617) 825-2700; (877) 463- 5297; Specializing in: "A wide range of legal services that take only one person into consideration: you, the client"].
LAW OFFICES OF HARVEY BAZILE [Suite 205, 1 Davis Square; Somerville, Massachusetts. 02144; Tel. (617) 629-0799].
LAW OFFICES OF KERBY ROBERSON [LOCATION: Boston, Massachusetts. (Specializing in: Immigration – Real Estate – Auto Accidents – Bankruptcy – Litigation of Criminal Matters – Family Law (Divorce, Custody, Child Support); Tel. (617) 361-4100].
LAW OFFICES OF NUNOTTE ZAMA [LOCATION: Boston & Cambridge , Massachusetts . In Boston: 1539 Blue Hill Ave., 2 nd Floor (suite 15); Mattapan , MA . 02126; Tel. (617) 296-0900; Fax (617) 296-8100 – Mediation). In Cambridge: 675 Massachusetts Ave, 9 th Floor.; Central Square. Cambridge , MA . 02139. Tel. (6! 17) 661-1151; Fax (617) 661-1169; Specializing in: Immigration – Auto Accident – Divorce – Real Estate)].
LEAD PAINT POISONING: THE THIEF OF CHILDHOOD [A video by the Boston Childhood Lead Poisoning Prevention Program of the Boston Public Health Commission. Haitian Creole and Cape Verdean Creole versions available for free to Massachusetts residents. - Haitian Creole language /Audio-Visual Resources / Education].
LÈ NOU BEZWEN ÈD, MEN KI KOTE NOU KA ALE (fòma pdf) [Enfòmasyon ak resous pou moun ki pèdi travay (Information and resources for people who lost their jobs). Kreyòl version, 16 pages. Producer: The United Way of Miami-Dade , Florida . – Human services].
LE PREMIER CONGRÉS NATIONAL DES MOUVEMENTS DÉMOCRATIQUES. Fritz Desommes, Le Nouvelliste du 4.2.87.
LETTRE DU PRÉSDENT JEAN BERTRAND ARISTDE AVANT SON SECOND DÉPART POUR L'EXIL. [traduction anglaise par E.VEDRINE].
LEFT CURVE MAGAZINE ("We encourage open, critical, defetishized work that attempts to unravel, reveal contemporary reality." An artist-produced critical magazine that encourages open, critical, defetishized work that attempt to unravel and reveal contemporary reality).
LET ARISTIDE SERVE HIS TERM IN HAITI (by Joel Deeb).
LIBRARY OF CONGRESS: SELECTED INTERNET RESOURCES ON HAITI [GENERAL RESOURCES: Business, Commerce, Economy; Culture; Education; Embassies; Genealogy; Geography and Environment; Government, Politics, Law; Health; History; Language and Literature; Libraries, Archives; Listservs, Newsgroups; Media and Communications; National Security; Organizations; Recreation and Travel; Religion and Philosophy; Science and Technology; Search Engines; Society - General].
LIBRERI MAPOU (The largest Haitian Bookstore in the Diaspora and on the Internet; Distributor of Haitian books, books and materials for Haitian bilingual programs, books on and in Kreyòl, resource center; 5929 NE 2nd Avenue, Miami, FL 33137 USA; Tel. (305) 757-9922; janmapou@aol.com).
LIBRAIRIE AU SERVICE DE LA CULTURE (Distributor of Haitian books, resource center; PO Box 162236, Miami , FL 33116-9998 USA).
LITTÉRATURE HAÏTIENNE D'EXPRESSION CRÉOLE, par Saint John Kauss.
LIV APRENAN: 4 CHEMEN KONNEN [4 Roads to Learning How to Read and Write Haitian Creole ( Student's Manual ) . Published by the Haitian Government's Literacy Department (1996). - Literacy / Afabetizasyon].
LIVRES SUR HAITI PUBLIE EN 2000
RÉGINALD LUBIN : UN OMNIPRATICIEN HABITÉ D'UN GÉNIE CRÉATEUR par Marie Flore Domond.
L'UNION (journal). 11, Ave PIE XII, Cité de l'Exposition, Port-au-Prince, Haïti.
M
MACHIN KI BAY LAFIMEN PA BON POU SANTE NOU (fòma pdf ) [On " Smoke from vehicle exhaust … that can get lodged in your lungs ". - Health-related document / Dokiman sou sante].
MADISON PARK DEVELOPMENT CORPORATION, (Magalis Toncoso, Director of Organizing). 2201 Washington St., Suite 300 ; Roxbury , MA . 02119; Tel. (617) 541-3900 x232; Fax (617) 541-4900; mtroncoso@madison-park.org.
M AKSEPTE ALE... (Dékatiyaj let démision Jean-Bertand Aristide (28 févriyé 2004), Raphaël Confiant).
MARCELIN FREDERIC : Un Haïtien se penche sur son pays par Léon François HOFFMANN, conférence tenue le 18 novembre 2005 à Paris.
MARIE-LOUISE CHRISTOPHE (From: CARIB QUEENS) by Charles E. Waterman.
MARTHA JEAN-CLAUDE: MUJER DE DOS ISLAS / FANM DE ZIL (videotape) [Adocumentary about the legendary singer Martha Jean-Claude ("This Woman of 2 Islands "). She was born raised in Haiti and moved to Cuba where she died. We get to know the artist in this videotape. - Literature (French, Creole) /Poetry/ Song].
MASIYON KWAKOU (MASSILLON COICOU, 1867-1908) [An article by Pauris Jean-Baptiste. 1977 Published in Boukan #127 (June 1977, pp 3-6.) 1977). Coicou's famous poem «Plenyen Yon Esklav» is also included. - Literature (French, Creole) / Poetry].
MASON, Marilyn (The Creole Clearinghouse; PO Box 181015, Boston, MA 02118 USA; (617) 247-8885 (office and answering machine); (617) 262-8923 (fax); MariLinc@aol.com; The Creole Clearinghouse Home Page; Creole Links Page; Haitian Creole Orthography Page; Marilyn Mason's Publications, Conference Presentations, and Creole Editing Projects Page.
LE MATIN [Quotidien, 3, Rue Goulard Petion-Ville, Haïti, info@Lematinhaiti.com, (509) 256-446, (509) 256-4463, (509) 256-4456].
MATERYÈL EDIKATIF KREYÒL NCHR [Among them: Sa pou fè si lapolis di ou kanpe (What to do if the police stop you); LEAP Piblisite (Legal Education and Assistance Project Publicity); Dwa Miranda (Your Miranda Rights.); Ti Saintanise (Restavèk story in Haitian Creole by Maurice Sixto»). - Language resources / Audio materials].
MEN KÒMAN POU PRAN GRENN ECP YO (fòma pdf) [ "ECP" (Emergency Contraception Pills). A production of PATH and the Northwest Emergency Contraception Coalition.- Health-related document / Dokiman sou sante].
METYE NÈSIZED OZETAZINI: MIT AK REYALITE DÈYÈ Letye nèsized Ozetazini: mit ak reyalite dèyè l; Sandra PIVERGER (kominikològ).
McLISTER, Elizabeth (Dept. of Religion, Wesleyan University, Middletown, CT 06459; Tel (860) 685-2289; Fax (860) 685-2821).
MEMORIA DEL 1er ENCUENTRO BINACIONAL DOMINICANO-HAITIANO SOBRE MIGRACIÓN Y DERECHOS HUMANOS. «Este material recoge las reflexiones y conclusiones del Primer Encuentro Binacional de Monitores de Derechos Humanos en la Frontera Dominico-Haitiana realizado en Junio del 2001 en Puerto Príncipe Haití.». CONTENIDO : Situación de los/as inmigrantes haitianos y sus descendientes en Rep. Dominicana; Situación de los Derechos Humanos en la Frontera ; Análisis de los Sistemas de Vigilancia de los Derechos Humanos en la Frontera. [Memwa Premye Rankont Binasyonal Dominiken-Ayisyen Sou Migrasyon Ak Dwa Moun].
MÉTELLUS, JEAN (Un site spécial consacré à Jean Métellus / A special site devoted to Jean Métellus).
MIAMI-DADE, FLORIDA: KREYASYON OTORITE REJYONAL POU TRANSPÒ [Vèsyon kreyòl yon nwouzlètè]
THE CENTER FOR HAITIAN MINISTRIES
LA MISE EN VALEUR DE LA LANGUE CRÉOLE N'EST PAS UN OUTIL DE REVENTICATION MAIS UN TRÉSOR LINGUISTIQUE : Entretien avec le Président du Mois de créole Pierre Roland BAIN par Marie Flore DOMOND.
MODELISATION DU TMA : LE CAS DU CREOLE HAÏTIEN ET DU PAPIAMENTU, Kate HOWE Maître de conférences en anglais (Université des Antilles et de la Guyane).
MODEREH (Mouvement Démocratique et Réformateur Haïtien). «Un nouveau parti a vu le jour à Port-au-Prince, le samedi 24 juillet 2004. Le Mouvement Démocratique et Réformateur Haïtien (MODEREH) est dirigé par les anciens sénateurs Prince Pierre Sonçon et Dany Toussaint. -- Cette formation politique avec pour slogan Sécurité, Ordre et Solidarité (SOS) entend cultiver la réconciliation nationale en vue du progrès du pays. --L'ancien sénateur contesté de l'Ouest Dany Toussaint, membre du directoire du MODEREH, indique que le parti se propose de s'attaquer au problème de l'insécurité en vue d'aboutir à la création d'un climat propice à l'investissement dans le pays. -- Le secrétaire général du Mouvement Démocratique et Réformateur Haïtien envisage de privilégier le dialogue avec tous les secteurs du pays dans la perspective du renforcement des bases de la démocratie naissante en Haïti. Prince Pierre Sonçon promet à tous générosité et tolérance pour une nouvelle approche dans la politique du pays. Le secrétaire général du MODEREH parle de la réinsertion des anciens chimères qui ont supporté le régime de Jean Bertrand Aristide. L'ancien sénateur contesté du Sud-Est souligne que le MODEREH est une école de non-violence et de débats en vue du progrès de la majorité notamment à travers le développement des micro-crédits. -- Plusieurs personnalités politiques et de la société civile telles Gérard Gourgues et Turnep Delpé ont assisté au lancement du MODEREH qui annonce sa participation aux élections de 2005 à tous les niveaux. -- Dany Toussaint et Prince Pierre Sonçon, autrefois opposants au Sénat dans le cadre du traitement de l'affaire de l'assassinat du journaliste Jean Dominique, se sont retrouvés sur la même longueur d'ondes un peu plus tard pour participer activement à la chute du régime lavalas de Jean Bertrand Aristide, le 29 février dernier».
MONNAIE DE LA RÉPUBLIQUE D'HAITI (Lajan Repiblik Ayiti).
MONNIN Galerie d'Art. Email. PoBox 15559 / 19 Rue Lamarre / Pétionville / Haïti. + (509) 22 57 44 30 / 36 80 32 40 / 34 46 84 64.
MOREAU DE SAINT-MERY : [De Saint-Domingue à l'Italie ou les ambiguïtés d'un créole des Lumières, Colloque du 10 au 11 septembre 2004, Atrium, Fort-de-France].
MORTGAGE, REFINANCE, ALL TAX PREPARATION [Specialized in all types of financing – Jean-Michel ST.JEAN, President. Tel. (617) 296-2651; Fax (617) 296-0996 – Mortgage Taxcom Affiliated; email: mortgagetaxcomp@yahoo.com; 564 River St. (Mattapan Sq.), Boston, Massachusetts. 02126].
MUDHA, (Movimiento de Mujeres Dominico-Haitiana MUDHA - República Dominicana). [Mouvman Fanm Ayisyano-Dominikèn nan Repiblik Dominikèn].
MULTIMAC HAITIAN CREOLE LANGUAGE RESOURCES
DANS LES ANNALES DE LA MUSIQUE HAITIENNE… [Source: Carl Fombrun Mailing List mail@fombrun.com, An interview with Jahnesta. Published in LAKAY MAGAZINE. Miami, Florida. Feb. 2004].
Musicalway Innovative & Mind-Boggling [Edmond Saint-Jean; music teacher; choir Master; organist; Pianist; Church functions; piano teacher; beginner guitar and recorder. E-mail: edstjn2@yahoo.com]
MY MARATHON FOR HAITI, Amber Walsh.
N
NAPOLEON'S HAITIAN GUERRILLA WAR [Napoleon Bonaparte's efforts (200 years ago) to reinstate slavery made Haiti the Western Hemisphere's second republic to fight for independence. By Tim Matthewson for Military History Magazine.). Page 1: The Caribbean Powderkeg; Page 2: A Campaign of Deception; Page 3: Skirmishes and Death;Page 4: "They die with incredible fanaticism."; Page 5: The Final Massacre; Page 6: The Haitian Impact on History].
NASYONZINI: DEKLARASYON INIVÈSÈL DWA MOUN [Kreyòl version of United Nations: Universal Declaration of Human Rights. - Governmental and Human Rights].
NASYONZINI: KONVANSYON SOU DWA TIMOUN [Kreyòl version United Nations Children's Rights Accord].
NEKITA LAMOUR'S CORNER | LE COIN DE NEKITA LAMOUR [].
NETPHET (Network of Professional Haitian Editors and Translators -- Rezo Editè e Tradiktè Ayisyen Pwofesyonèl). Coordinators /Kòdonatè: (1) E. W. Vedrine, (2) Jean Heberb Bellefleur). [Haitian Creole: Editions and Translations]
NEW BOSTONIANS VOTE: GIVE OUR COMMUNITY A VOICE VIDEO [Chunk of a Civic Participation and Voter Information Kit. Produced by the Mayor's Office of New Bostonians (Boston , Massachusetts) free of charge . Haitian and Cape Verdean Creole versions are available. - Haitian Creole language / Audio-Visual Resources].
NEW ENGLAND 'S ON-LINE HOME FOR HAITIAN-AMERICAN NEWS & CULTURE
NEWS ON-LINE ABOUT HAITI AND HAITIAN EVENTS
NIC-NAC CARDS [AProduct offered by Newspapers in Education (NIE) at The Miami Herald . This packet of color-coded cards contains self-directed activities that reinforce reading, math, language arts, and social studies concepts. They are written in English on one side and Spanish or Creole on the flip side. See page 4 of the NIE Resources Catalog. To order http://nieonline.com/miami/images/11.pdf. - Haitian Creole language / Audio-Visual Resources].
NYIHA MEDIA is an online portal where independent thinkers connect. We advocate on behalf of diasporas in the United States, Dominican Republic and Central America. We offer international and cross-cultural perspectives on links between diaspora and human rights –expressed through media arts, film and music. We publish original contributions, with an emphasis on fostering civic mobilizations through communication to promote diversity and tolerance.
NOUS SOMMES VENUES DE LOIN par Marlène Rigaud Apollon.
NÒT POU ZANMI KREYOLIS TOUPATOU [A report in Kreyòl on KIPKAA's 2001 International Creole Day Celebration. Authors: Pierre R. Bain (KIPKAA Coordinator) and Yvon Lamour (SDKA Director) Published in Tanbou . – Literacy / Afabetizasyon].
NOTE DE PRESSE DE LA FONDATION CONNAISSANCE ET LIBERTÉ-FOKAL A L'OCCASION DES ÉVÉNEMENTS DU 5 DECEMBRE 2003.
NOUVO TESTAMAN AN SOU ODYO KASÈT [The New Testament in Haitian Creole - read aloud by Rev. Edner Jeanty (a native speaker). Reproduced for audio cassette distribution and free-of-charge to ALL libraries. Also available to sight-impaired or print-handicapped persons, institutions, organizations, and individuals which serve sight-impaired or print-handicapped persons. Available via Audio Scripture Ministry of Aurora Ministries (formerly Bible Alliance) in Bradenton, FL.- Haitian Creole language / Audio-Visual Resources].
O
ONCE THERE WAS A COUNTRY: REVISITING HAITI [Documentary by Kimberly Green, president of the Green Family Foundation, and Wassim Serhan. -- "This documentary examines the causes of the present healthcare crisis in Haiti and provides examples on how innovative healthcare programs can alleviate poverty and disease in the most isolated regions of Haiti. The film highlights Haiti's rich cultural heritage and explores the social and environmental reasons behind a failing healthcare infrastructure and Haiti's status as the poorest country in the Western Hemisphere. Once There Was A Country aims to dispel the myths surrounding this misunderstood country and to provide viewers with a surprisingly positive point of view... The film follows the Tuberculosis and HIV/AIDS treatment of a family and a single man through a new health initiative over a six-month period. Throughout this period, viewers will learn about Haiti's lack of a proper healthcare system and available alternatives. The threats posed by the spread of infectious diseases and poverty throughout Haiti will destroy its social fabric if they remain ignored and unchecked. The characters undergoing the treatment will serve as the center-point of the film. The pioneers that aim to establish a self-sustaining community-based healthcare and educational system in rural communities will provide a new hope for the people of Haiti."]
ORÈSJOZÈF PUBLICATIONS (Distributor of Haitian books, books and materials for Haitian bilingual programs, books on and in Kreyòl; 167 Canton Street, Randolph, MA 02368 USA; ojozef@massed.net ).
ORGANIZACIÓN DE LAS NACIONES UNIDAS PARA LA AGRICULTURA Y LA ALIMENTACIÓN, (Òganizasyon Nasyonzini Pou Agrikilti Ak Alimantasyon).
ORGANIZATION FOR THE REHABILITATION OF THE ENVIRONMENT, (ORE is working to improve environmental, agricultural and economic conditions in rural Haiti, mail@oreworld.org).
ON THE ORIGIN OF CREOLES: A CARTESIAN CRITIQUE OF NEO-DARWINIAN LINGUISTICS by Michel DeGraff. [Online version of articles published in Linguistic Typology 2001, Vol. 5, nos. 2/3, pp. 213-310].
O SIJÈ LASANTE [Kreyòl version of health documents produced by AHEC (the Eastern Area Health Education Center ), Connecticut , USA . SUBECJECTS include: Cholesterol (Kolestewòl); Emergency Action for Poisoning (Aksyon dijans pou anpwazònman); High Blood Pressure (Ipètansyon); Lead and Active Life (Mennen yon vi aktif); Lead and Your Kids (Plon ak pitit ou yo); Less Stress (mwens estrès); Risk Factors for Heart Disease (Fakt ris ki kapab lakòz maladi kè); Steps to Quit Smoking (Etap pou kite fimen); Tips for Weight Control (Konsèy pou kontwole gwosè); To Parents with High Cholesteral (Pou paran ki gen kolestewòl wo); What is H.U.S.K.Y.? (Kisa HUSKY ye? ). - Health-related document / Dokiman sou sante].
OSTEYOPOWOZ: LI PA JANM TWÒ BONÈ, TWÒ TA POU FÈ YON BAGAY POU SA [(A 2-page osteoporosis brochure in Kreyòl. Produced by the Massachusetts Department of Public Health). - Health-related document / Dokiman sou sante].
ÒTOGRAF OFISYÈL LANG KREYÒL [On Haitian Creole Orthography – The September 28, 1979 decree. Published 1/ 31/ 1980 and signed by Joseph C. Bernard, then Secretary of State for National Education in Haiti. – Literacy ( Afabetizasyon) / Orthography].
OÙ VONT LES JEUNES IMMIGRANTS HAÏTIENS? Par Hugues ST. FORT [- Haitian identity].
P
QUELQUES PLANTES CRÉOLES ET LEURS NOMS EN LATIN (Some Creole plants and their names in Latin).
PAPILLON [Neite Decimus - Prêtre du Vaudou- For all your needs: Card Reading & Healing massage – Pour mieux vous server. – Tel. (774) 274-9391. P.O.Box 1486 Brockton, MA. 02303].
PARLER CRÉOLE DANS LE MÉTRO par Hugues St. Fort, The Haitian Times, Vol. 5, No. 16, April 16-22, 2003 , p. 2. [- Language and identity].
PEAN STANLEY : Un nouveau président pour les écrivains québécois.
PEAN STANLEY : L'auteur Stanley Péan est-il un errant dans l'œuvre - Ou dans l'âme... par Marie Flore Domond.
PERICLES, Claire Berenice [Translation: Haitian Creole, French and English – business, medical and legal documents. E-mail: cberenice2002@yahoo.com . Tel. (508) 580-2117]
PÉTITION POUR LE RESPECT DES DROITS INALIÉNABLE ET IMPRESCRIPTIBLES DU PEUPLE HAÏTIEN
TI PEYI A : BELLE RECOLTE DE LUCK MERVIL
DOCUMENTARY PHOTOGRAPHS OF STREES CHILDREN OF LAFANMI SELAVI
LE PHÉNOMÈNE MIGRATOIRE DANS LE RÉCIT DE JACQUES ROUMAIN : GOUVERNEURS DE LA ROSÉE: par Obrillant Damus.
PIERRE (Sonia): Entrevue par Robert Benodin (20 avril 2007).
PIG PARTIES ["A Pig Party raises money for the Creole pig repopulation program. Invite a few friends and watch Grassroots' documentary " Haiti 's Piggy Bank." With the games and activities in our Pig Party Packet, you will learn about Haiti 's Creole pig and its important role in peasant life. You'll discuss how international pressure was used to nearly exterminate this important resource. And you'll talk about the efforts now under way to bring back the Creole pig." - Development].
PLAN HAVA ETA FLORID: LWA POU EDE AMERIKA VOTE 2002 (fòma pdf) [Kreyòl version of a 74-page 2002 Report by the Division of Elections of the Florida Department of State. This reports focuses on its progress toward implementing the election system reforms post-2000 Presidential Election debacle as mandated by the HAVA (Help America Vote Act)].
PLANIN RAPID POU KA DIJANS: LI PA TWÒ TA POU ANPECHE W VIN ANSENT (fòma pdf) [Emergency Contraception: It's Not Too Late to Prevent Pregnancy (brochure translated to Kreyòl, 2 pages. Produced by PATH and the Northwest Emergency Contraception Coalition. - Health-related document / Dokiman sou sante].
PLURIEL (Magazine). Edité par les Agences Pluriel. Tél. 511-6312; 256-7207. PDG de la publication: Marie-Hélène RAMEAU, Chantal T. FLORES, Cynthia T. KHAZZOUH. Editeur en chef: Marie-Hélène Rameau (Rameau@hainet.net). Conseillères de la section Jeunesse: Tatiana Cozart & Ashley Tavernier; Reportage & Relations Publiques: Marie-Hélène Rameau, Monique D. Kanzki ( Miami ), Rolande Coradin, Cynthia T. Khazzouh; Publicités: Marie-Hélène Rameau, Cynthia Khazzouh; ONT COLLABORE: Paulette Poujol Oriol, Odette Roy Fombrun, Anne-Marie Issa, Régine M. Jolicoeur, Georges Corvington, Nathalie Trouillot, Caëlle Jean-Baptiste, Lemane Vaillant, Frantz Delva MD, Gérard Large, John Danies, Patrick Tavernier, Xavier Tavernier.
POÈMES ( par Johnny BELIZAIRE).
LA POÉSIE HAÏTIENNE D'EXPRESSION CRÉOLE (en pdf, 72 KB) par Saint-John Kauss.
LE COIN DE JOSEPH POLICAPE [The Bird's Love for Poetry and Essays: A Treasure for Life].
LA POLICE NATIONALE D'HAITI ET LES DROITS DE L'HOMME (Haiti 's National Police And Human Rights / Polis Nasyonal Peyi Ayiti Ak Dwa Moun).
POU EDE W PRAN SWEN TÈT OU: PWOGRAM POU ZAFÈ KANSÈ NAN TETE AK NAN BOUCH MATRIS (SÈVIKS) (fòma pdf) [A 2-page bilingual poster published by the Centers for Disease Control and Prevention and the Massachusetts Department of Public Health - Health-related document / Dokiman sou sante].
POU KONTINYE GEN KONTWÒL (fòma pdf) [«Dwa fondamantal fanmi nan Connecticut ki genyen tibebe ak timoun piti ki gen reta nan devlopman yo oswa andikap». Kreyòl version of the 4-page booklet, Staying in Charge , outlining basic rights for families in Connecticut who have infants and toddlers with development delay or disability. - Health-related document / Dokiman sou sante].
PORT-A-PIMENT [(Dr. J.R. Ernst Joseph and family) a site, presently under construction, discussing the history and showing the many attractions of PORT-A-PIMENT and surrounding sites on the south coast.]
PORT-AU-PRINCE NATIVE TO TAKE CHARGE AT MASS BAY COLLEGE [On Dr. Carole Berotte Joseph to head MassBay Community as its forth president].
PORT OF HAITI (A variety of information).
PORT d'HAÏTI (The Internet Information Port devoted to Haiti and to the Haitian People).
POST ELECTION PICTURES (2006)
POTOMITAN (Creole in the Other Caribbean Countries).
PRAN LESON SOU AYITI (POU NOU TWOUVE BOUT SIDA) [Article in New York Times , pp. Editorial/Op-Ed), December 6, 2001 . Written by Howard HIATT; Kreyòl translation by Guy S. Antoine. This article also appeared in bwaPiwo ( Feb, 13, 2002 ). - Health-related document / Dokiman sou sante].
PREMYE PA: KONT VYOLANS DOMESTIK( First Step Against Domestic Violence – A 44 pages booklet educating on the issue and a resource booklet in Kreyòl. A production of Family Services of the Health Department of the State of Florida . This document is designed to help suspected and confirmed victims of domestic violence. It is also a detailed safety plan and has a listing of the names and hotline phone numbers of Florida 's 38 Domestic Violence Centers].
PRENSIP DE BAZ POU PRETE LAJAN: KOMAN POU KONNEN AK KONPRANN KREDI W (pdf) [A Kreyò version of the Fannie Mae Foundation's. A 32-page colorfully illustrated Credit Guide booklet].
PRENSIP DE BAZ POU PRETE LAJAN: SA W PA KONNEN PI GRAN PASE W [A Kreyòl version of the Fannie Mae Foundation's 16-page colorfully illustrated Borrowing Basics Guide booklet].
PRENSIP SOU JAN LAPOLIS DWE MACHE [A corpus (ansanm) tèks kreyòl & fransè ki gen pou wè ak konpòtamn moral yon ajan lapolis nan travay li toulejou | Corpus of Haitian Creole & French texts that describe the police officers' behaviour in their work on a daily basis. - Governmental and Human Rights].
PREPARASYON POU DEZAS 2001; PREPARASYON POU DEZAS 2002; PREPARASYON POU DEZAS 2003 (fòma pdf). [A 24-page Disaster Preparation booklets for the years 2001, 2002 and 2003 by Florida Department of Elder Affairs. These booklets cover issues as: chemical emergencies, disaster insurance, drought, emergency evacuations, emergency preparations for the handicapped, flooding, heatwaves, house fires, hurricanes, keeping your food safe, lightning storms, terrorism, tornadoes, viral epidemics, wildfires, etc. – Human services].
PRESS BRIEFING BY DEE DEE MYERS (On Haitian immigrants).
FRANT PRESUME [Watercolor and Oil Paintings, Portraits in Oil and Pastel – Tel. (508) 857-3989; Fax (508) 857-3989; E-mail: presf28@yahoo.com
PRIX DU LIVRE INSULAIRE 2004 [Grand Prix du Livre Insulaire - Prix des îles du Ponant : Davertige [Villard Denis], Anthologie secrète, Ed. Mémoire d'encrier, Montréal 2003; Prix Poésie Anthologie de la littérature haïtienne : Un siècle de poésie, 1901-2001, Ed. Mémoire d'encrier, Montréal 2003].
LA PROBLÉMATIQUE DU CRÉOLE À L'ÉCOLE une manifestation d'insécurité au niveau identitaire par Caroline Hudicourt.
PROJET VOILÉ D'ANNEXION SOUHAITÉE par Dunois Erick Cantave.
PROTECT YOURSELF FROM PESTICIDES: GUIDE FOR AGRICULTURAL WORKERS [Videotape. - Haitian Creole language / Audio-Visual Resources].
HAITIAN PROVERBS: AN INTEGRAL PART OF THE CREOLE LANGUAGE [- Art and Literature].
PWOF ANSANM [Mission: The mission of Association Pwof Ansanm is to promote cooperative initiatives in Haiti that address educational needs. This Association supports programs and individuals whose mission it is to improve Haitian education through teacher training, curriculum development, and material development. Through such a program, PWOF ANSANM hopes to positively influence the educational system by: Fostering an ethic of cooperation in education between Haitian and foreign educational institutions. Establishing a national teacher training consortium to address the urgent needs of the school system. Elevating the impact of volunteer educational programs in Haiti by providing resources and guidance, and facilitating communication. Fostering academic research on Haitian education by Haitian and foreign scholars.]
PWOGRAM TRANZISYON VÈ BYENNÈT MOUN K AP TRAVAY NAN SID FLORIDA [Vèsyon kreyòl yon dokiman ki rele: South Florida Workforce Powerpoint Slide Presentation (71 fim prezante sou pawèpwent), ki dekri benefis yo bay moun ki an tranzisyon nan pwogram wèlfè piblik pou vin aktif nan travay. - Employment- and Labor].
PWOTEKSYON FEDERAL KONT DISKRIMINASYON POUTÈT PEYI KOTE MOUN SOTI (fòma pdf) [S. Department of Justice document – A Kreyòl document concerning federal protections against national origin discrimination. - Governmental and Human Rights].
Q
QUAND LES MESURES SOCIALES SE HEURTENT À LA PAUVRETÉ (MONTREAL) [«Tout comme les jeunes d'origine haïtienne qui sont dans la pauvreté, les jeunes Québécois d'ascendance française de même condition socioéconomique font face aux limites du système de protection de la jeunesse. Mais le parcours des jeunes d'origine haïtienne dans ce système est marqué par la discrimination systémique, affirme Léonel Bernard.»].
15 QUESTIONS ABOUT HAITIAN CREOLE by Yves DEJEAN [1 . Creole: What is it? 2 . Is Creole a language, a dialect or a patois? 3 . Where does Creole come from? 4 . Where is Creole spoken? 5 . Isn't Haiti isolated by Creole? 6 . Isn't Creole responsible for Haiti 's underdevelopment? 7 . Does Creole have a scientific and technical vocabulary? 8 . Can one conduct or carry scientific discussions in Creole? 9 . Are there Creole dictionaries? 10 . Does Creole have a grammar? 11 . Is Creole rule-governed? 12 . Does Creole have an orthography (that is, a spelling system)? 13 . Can people use Creole in Haiti to conduct serious business? 14 . Will Creole-speaking children be able to learn French or English? 15 . Why is it that people advocating the use of Creole in Haitian schools are sometimes individuals already fluent in French?- Haitian Creole / Langue].
R
RADIO STAR HAITI diffuse ses émissions depuis la Ville de New-York Capital du monde en direct sur internet. Point de contact hvolcimus@hotmail.com Tel:347 -406 -3471 (Junior Directeur ).
RADIO NOUVEAUTÉ OF MASSACHUSETTS ("Radio Nouveauté of Massachusetts, WRNM 1640, is a 24 hour community radio station committed to empower the multi-ethnic community of Mattapan, Dorchester, Hyde Park, Roxbury, Roslindale, Cambridge, Somerville, Everett, Medford and their surrounding in attaining social and economic development background; maintain and organizing everything in the Radio station.").
RADIO KISKEYA [42, rue Villemenay. Port-au-Prince, Haiti. West Indies. Tel. (509) 244-6605, 244-6607. E-mail / redaction: redac@radiokiskeya.com / E-mail / administration: admin@radiokiskeya.com
RAPPORT DE LA MISSION DE L'OEA EN HAÏTI, (Rapò Misyon OEA An(n) Ayiti).
RAPÒ ÒTOGRAF AK LANG (by Serge Sylvestre) [On-line publication: Jounal Kreyòl Ayisyen (JKA), # 4. January 2003. – Literacy (Afabetizasyon) / Orthography].
RAPPORTS ENTRE L'HOMME ET L'ENVIRONNEMENT DANS LE RÉCIT DE JACQUES ROUMAIN (1907-1944) : GOUVERNEURS DE LA ROSÉE (UN ROMAN HAÏTIEN): par Obrillant Damus.
R.D.N.P (Rassemblement des Démocrates Nationaux Progressistes d'Haïti).
REBOISEMENT DE TABARRE : 26 août 2007, 658 manguiers,dont 600 remises directement à la population et 58 plantés sur la cour de la Mairie.
RECHERCHE SUR LE POUVOIR DANS LA MUSIQUE CARBEENNE : le cas d'Haïti, 1985-1995.
RECHERCHE SUR LES 'PAROLIS' ET LES PROVERBES HÏTINS / RECHÈCH SOU 'PAWOLI' AK PWOVÈB AYISYEN.
RECOMMENDATIONS OF THE 1999 CREOLE SYMPOSIUM
REDH (Red de Encuentro Dominicano-Haitiano).
REGARD CREOLE MAGAZINE [Ricardo Louis, Chief editor - 554 West 162nd street, suite 8 -- Rergard Creole is a new magazine dedicated in bringing about a positive perspective on Haitian art in all its forms of expression. To that effect, we talk about painters, writers, graphic designers, singers, actors, art in general… We focus our attention on both established artists and new comers either on stage or behind the scene workers. Our rich culture and people are repeatedly clouded by unflattering images sending a barbaric Haitian portrayal throughout the world. It is our goal to reveal the beauty in Haitian art and artists...]
RENCONTRE AVEC LA RESPONSABLE DU SITE INTERNET KAPES KREYOL [Interview parue dans l'hebdomadaire martiniquais Antilla du mois d'avril 2004. - Interview].
UN GUIDE DE REFERENCE SUR HAÏTI
LUC RÉMY'S CORNER | LE COIN DE LUC RÉMY [Contact: luckyten1017@yahoo.com].
RÉSUMÉ DE LA CONFÉRENCE SUR HAÏTI DE MONTRÉAL par Marilou. Synthse des réponses de la diaspora haïtienne aux questions posées en atelier (en pdf, 120 KB).
REPONS LÈT TONTONGI TE EKRI NAN DAT 6 DESANM 2010 POU LI SIPÒTE DEKLARASYON SOU AKADEMI AYISYEN AN: Fritz Deshommes.
RESOUS POU VYOLANS FAMILYAL [A webpage produced by the Florida Coalition Against Domestic Violence. It lists services available in Florida for those who suffer from domestic violence. – Human services] .
REYAKSYON EMOSYONÈL APRÈ 11 SEPTANM [A document produced by the Cambridge Public Health Department (Massachusetts , USA). It explains how to cope with emotional reactions after September 11, 2001. - Health-related document / Dokiman sou sante].
REYES ARRIAGA, SERGIO HIPÓLITO, écrivain-historien dominicain.
REZIME DWA OU GENYEN DAPRE LWA OSHA (fòma pdf) [Vèsyon kreyòl Guide to workers' rights under OSHA , yon piblikasyon MASSCOSH].
REZISTANS KE VIRIS VIH LAN DEMONTRE NAN MEDIKAMAN AVÈK TÈS (fòma pdf) [On HIV Drug Resistance Testing and Treatment . This brochure was originally produced with support from the Westchester County (NY) Department of Health by the AIDS Community Research Initiative of America (ACRIA); © 2001. Edited in Kreyòl by Marilyn Mason. On-line republication rights is granted by ACRIA to Marilyn Mason (August 2002). - Health-related document / Dokiman sou sante].
REZO ENTÈNÈT KREYOLIS AYISYEN (REKA) Discussing any subject related to Kreyòl, in Kreyòl.
LA REPRÉSENTANTE D'ORIGINE HAÏTIENNE, YOLLY ROBERSON, VEDETTE DE LA PRESTATION DE SERMENT DES NOUVEAUX ÉLUS DE FLORIDE
REV. RODERICK, CHERRY (revjrcherry@gmail.com)... Brockton, Massachusetts. Tel. +1 (508) 521-0293... Radio Program, "Transportation Communautaire" (Community Transportation)... on /sur 89.3 FM, Radio Planet Compas, every Monday /tous les lundis... 5pm - ,7pm... 1) Evangelical (evangelique)... 2) Civics (Instruction Civique)... 3) Education on Transportation (Education sur Transportation)
ROGER KESLER BRÉZAULT [Editor / Editeur (French, Haitian Creole); Author / Auteur; Teacher / Enseignant – C.P. 102, Succ. Youville, Montreal. H2P2V2. Tel. (514) 374-9678. E-mail: lagomatik2000@yahoo.fri; keslerbrezault@hotmail.com].
ROROLI [Actualités; Annuaire de sites haitiens; Biogaphies de personnalités haïtiennes; Recettes de cuisine créole; Jeux; Paroles de chansons; Blagues; Forum de discussion; Gallerie photos].
ROUMAIN Jacques, Activités commémoratives en Haïti du centenaire de naissance de l'écrivain Jacques Roumain
ROUMAIN Jacques, Hommage à Jacques Roumain

E. W. VEDRINE CREOLE PROJECT, Inc.
HaitianLanguage@gmail.com – CreoleEditions@gmail.com