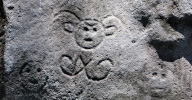 Potomitan
Site de promotion des cultures et des langues créoles
Annou voyé kreyòl douvan douvan
Le musée du Dodo
The intercultural dodo:
a drawing from the School of Bundi, Rājasthān
Historical Biology: An International Journal of Paleobiology
Emmanuel Richona & Ria Wintersb
aBlue Penny Museum, Port Louis, Mauritius
bUniversity of Amsterdam, University Library, Amsterdam, Netherlands
bArtists for Conservation
Published online: 02 Oct 2014.
Abstract
The iconic dodo Raphus cucullatus once occurred on the isolated Mascarene Island of Mauritius, situated in the southwestern Indian Ocean. Mauritius was once a paradise for a unique flora and fauna that evolved in isolation for 8 million years. The dodo was sought after by seafarers who visited the island from the early sixteenth century onwards because we know from remains surviving in collections and a series of artworks that captive dodos were transported to Europe, India and Japan. This article presents a hitherto unpublished image of a dodo, preserved in the collection of the Trustees, Chhatrapati Shivaji Maharaj Vastu Sangrahalaya, Mumbai, the formerly Prince of Wales Museum of Western India. The bird is situated in a non-Mauritian environment together with other animals and it is named in Hindi. We further explore the background of this creation and its implication on the iconography of the dodo.
Pour lire l'article cliquer ici.