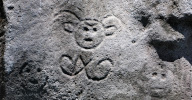 Potomitan
Site de promotion des cultures et des langues créoles
Annou voyé kreyòl douvan douvan
Koze Lanmou (Vol. I). A collection of love poems in Creole. VEDCREP. Boston, MA. 1995. 48 p. - Titles include: Babay lekòl mwen an; Bò Oseyan an; Divòs;Fanm lakay; Fanm marabou; Filalang lanmou; File; Kat lèt; Kè m ak ou menm; Kilè w ap retounen; Koutba; Lang; Lè fanm lakay damou; Lè m te fèk rankontre w; Maryaj; Mwen sonje ou; Nan Pak la; Nègès ki fè bote rivaj mwen yo; Ou panse m ap tounen; Pa bliye; Plase; Sa ou dwe konnen; Sapoti ou dous; Si ou te konn apresye; Si van an vante; Si w ap vole; Sou Sou sou; Souri l ak pa Mona Lisa; Souvni; Triyang souwè; Womans Ozetazini; Yon bouke flè pou fanm vanyan; Yon ti woz; Yon pye flanbwayan.
Instead of introduction, it's more a dialogue, a monologue. It is difficult sometimes for a writer to comment on a work he has written without having somehow a dialogue with an audience. I am not totally influenced by the "School of new criticism" (according to them, once a writer has published a work, he has no comment to be made on it; that's the work of an audience). Sometimes, I can make some comments if they ask me to do so or if I feel there are some necessary points to clarify. Many people who know me see me more as a linguist; the reason is clear: most of my research and interviews are based on Linguistics. I don't deny it either (the fact of their consideration). At the same time, poetry plays an important role in my life; it is the way I express my feelings; it is what I think, what I experience, what I interpret; indeed, it's a way I communicate.
This poetry book appears to be a small one, but for many readers who have the chance to read it, they can see it as a big one in terms of connection with the readers on many aspects. – "Love" plays an important role in everybody's life. Sometimes we can encounter positive and negative things on the road of love, but all of the concentration remains inside of us and we don't express some hidden feelings, a way to share our experience with others.
In these poems, many comments can made on the issue of "love". First, a person may ask me why I include a poem on "language" («lang») in this book? A good question! That's among the very first poems I've written; it's clear where I show my love for language as a tool to communicate with my surrounding, and in the first place in Haitian (Creole) my native language. So, it is through a language everyone can express themselves, and talk about their feelings. Though I speak and write some other languages, but it's only the Creole language that I feel connected with my blood and soul. I have a particular feeling that I cannot explain when writing in this language.
What does Koze Lanmou (Vol. II) have? – It's a bag with many things in it. Through these poems, I reflect my philosophy and psychology on the theme. Love is something that cannot be eliminated in our life. I encourage readers to read also Volume II (Anpàn mo; De flè nan jaden lavi; Dènye Lendi; Deskripsyon; Douz liy pou li; Fanm Ayiti; Fanm kreyòl; Flè sovay; Gen defwa m sonje w; Jou pa ou; Kè m ak ou menm; Lanmou o pliryèl; Lavi se yon powèm; Meditasyon; Mwen reve w dwòl; Nou panse n te sèl; Pawòl an pil; Pwòpte; Resèt pou depresyon; Rèv dwòl; Rilaks; Se do l mwen wè; Sekrè lanmou; Sen valanten, priye pou mwen; Solèy lanmou w kouche pou mwen; Solèy sa a; Souri ban mwen; Vèb renmen; Yon jaden lavi; Yon bèl jaden flè) now available online, and send me their criticism. I hope that everyone find something interesting in this collection.
Note for teachers using this collection. – I wrote these poems using a simple language which is part of my style as writer. Not only "simplicity" is important to me, but I also believe in terms of communication, a message can get across faster. Teachers can have the students read the poems (in Creole) either in the classroom or use them as homework. Before teachers read or use them in class, they must revise them first, prepare a list of questions on them to be asked in class. It would be good to have students comment on them either through writing (more at high school level) or orally. Teachers can also bring a tape recorder in class to tape students' comments on the poems as a type of class activity. Teachers can write down these comments as a kind of project and in return, that will help them later when using them in class. Another activity that can be done would be to choose some poems and then have students reflect on them, develop creative ideas to do drawings that go with a poem in particular.
Though I mention this book would be more appropriate for High School level, it can also be used at Middle School level. What's important is how a particular teacher is going to use it in his lesson plan or in his developed curriculum; maybe other teachers can come up with more comments on that.
At the Middle School level, it's more orally I think teachers can use them. Again, it depends on a teacher. For example, if he is reinforcing writing practice in the Creole language, students can also do written assignments at this level where the teacher can even give them a dictation, using the texts.



Emmanuel W. Védrine
Creolepublisher@hotmail.com