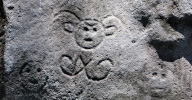 Potomitan
Site de promotion des cultures et des langues créoles
Annou voyé kreyòl douvan douvan
ZikWave Studios Inc.
ZikWave Studios Inc. is a Montreal-based independent game studio that puts music first.
Premier jeu vidéo antillais d'envergure, de plus traduit en créole! Il s'appelle Musical Vibes AR.
Plusieurs annonces et informations sur la page FB de ZikWave: https://www.facebook.com/zikwavestudios.
Une version pour Xbox One a même été approuvée par Microsoft!
Voici une bande annonce pour la version mobile:
https://www.facebook.com/zikwavestudios/posts/2371660316440183?__tn__=-R
* * *
Voici un message du développeur principal du jeu:
Hi, I'm Ronald Riquet, president of ZikWave Studios Inc., and main developer of "Musical Vibes" (previously "Feel the Vibe") for Xbox One and its augmented reality version "Musical Vibes AR" for mobiles. I developed this game to help people discover new talented music producers, rappers/singers and choreographers. "Musical Vibes" for Xbox One (and probably PS4) will be released later this year. You can download today for free "Musical Vibes AR" for iOS on the App Store, Google Play and the Amazon Appstore. This last option is the best one for people in the West Indies using Android.
The augmented reality feature of "Musical Vibes AR" allows the game to add high-quality 3D characters and special effects to the video coming from the camera of your phone. You can move around the characters like if they were really there in front of you and record the scene to share it later on social media if you wish!
You can visit us at www.zikwavestudios.com.
I hope you'll have a great time with this game and I'm looking forward to your feedback!