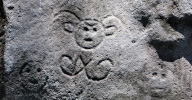 Potomitan
Site de promotion des cultures et des langues créoles
Annou voyé kreyòl douvan douvan
Selebrasyon jounen lang kreyòl la
Duke University 2022
October 28, 2022
This celebration marks the 10th annual International Creole Celebration at Duke University. This initiative was started by Jacques Pierre two years after his arrival at Duke University (Haiti Lab).
According to Pierre, this activity enables students who have been studying Kreyòl at Duke University, University of North Carolina at Chapel Hill, Vanderbilt University, and the University of Virginia, to share their linguistic journey in Kreyòl with others.
Since 2012 sixteen students Duke (10), UNC at Chapel Hill (3), Vanderbilt University (2), University of Virginia (2) have already presented papers in Kreyòl, and ten scholars around the world (Ayiti (4), Jamaica (1), Saint-Lucia (2), South Africa (1), Mauritius (1), Trinidad & Tobago (1)) have been invited to Duke University to share their work on an aspect of Kreyòl with scholars, students at Duke University and the Haitian community in the triangle area.
May the teaching of Kreyòl continue to grow at Duke University and other universities that embrace the language.
*